Moncton – Students at New Brunswick Community College (NBCC) will have the opportunity to benefit from one of Europe's culinary trendsetters – thanks to a new partnership with the Hector J. Bravo Culinary & Pastry Arts Academy. The partnership will explore opportunities for collaboration in culinary and pastry programming, with a vision of making NBCC and New Brunswick a hub and trendsetter for international culinary and pastry training in North America.
"NBCC aims to welcome more learners to programs that respond to learner aspirations and labour market needs," said Marilyn Luscombe, NBCC President and CEO. "Partnerships with industry leaders, such as the Hector J. Bravo Culinary & Pastry Arts Academy. are important in helping us achieve these goals."
As part of the partnership, areas for future collaboration include:
exploring the establishment of a joint restaurant business academy in New Brunswick with focus on entrepreneurship, marketing and business management;
collaborating with Indigenous stakeholders on the development of culinary and pastry courses with an Indigenous focus;
exploring the development of culinary and pastry courses with a focus on entrepreneurship; and
researching and integrating emerging trends into culinary and pastry programs and courses.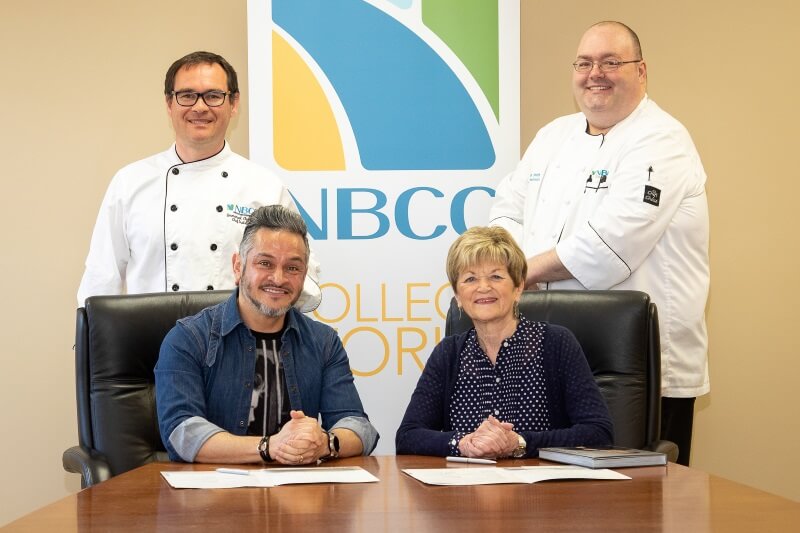 "Some of our principles are openness to the world, forward and innovative thinking and this has played a key role with the success of our Academy and our graduates," said Hector J. Bravo. "This strategic partnership with NBCC is in line with our principles, and we know it'll play an important role in the life of our Chefs, Instructors and students with great opportunities for sharing knowledge and experiences. We want to share to the world our success stories and at the same time we want to learn from our strategic partners' achievements."
NBCC currently offers culinary programming at both its Moncton and St. Andrews Campuses.
About Hector J. Bravo Culinary and Pastry Arts Academy
The Hector J. Bravo Culinary and Pastry Arts Academy (HJBCPA) is a leading private educational institution in Kyiv, Ukraine, providing hands-on intensive training and profound contemporary techniques studies, as well as modern kitchen management, for future chefs and pastry chefs. The programs of the HJBCPA are based on French techniques with up-to-day Culinary Trends focusing on transferring international experience of our trainers. HJBCPA works closely with the labour market and prioritizing on its needs and connecting the employers with our graduates. HJBCPA constantly provides a variety of additional intensive trainings and master-classes, inviting the leading chefs from all over the World and giving the opportunity to our students to learn the latest culinary & pastry technologies that are impacting the Gastronomic Industry. The graduates of HJBCPA successfully have continued their careers in EU, CIS countries and North America.
Media Contact:
Heather Allaby, Director, Communications and Stakeholder Engagement
New Brunswick Community College
506.444.3320 | heather.allaby@nbcc.ca
Yevhen Makarenko, Director of Business Development
Hector J. Bravo Culinary & Pastry Academy
+380 67 231 00 33
E.makarenko@chefbravo.com