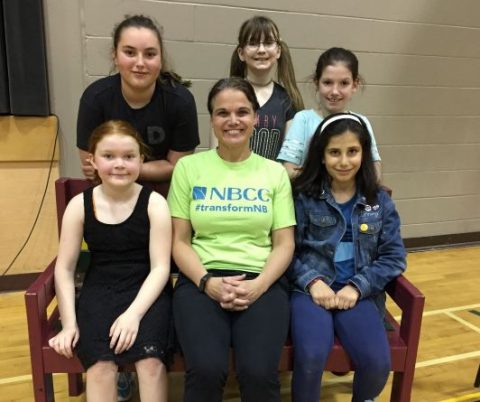 MONCTON – When community service meets learning, that's the NBCC Advantage.
Across six campuses, NBCC seeks engaging opportunities for its learners to give back to their communities while completing their programs. At the Moncton Campus, Carpentry and Educational Assistant students recently had the opportunity to collaborate on a community project that provided both classes with valuable hands-on experience. The "Buddy Bench" at Evergreen Park School in Moncton was conceived by Educational Assistant students and built by Carpentry students.
"The Buddy Bench creates kindness and new friendships," said Angela Murphy, an instructor in the Educational Assistant program at the Moncton Campus of NBCC. "Not every child enjoys recess. Some struggle socially, some are new to the school, some don't have a circle of friends."
The Buddy Bench provides a place for students who are looking for friendship to sit, where other students will recognize their need for socialization, added Murphy, who first learned about the idea from her own work with special needs learners. She reached out to Carpentry instructor Steven Austin, who was happy to get his students involved.
The Buddy Bench at Evergreen Park School is the second that's been constructed by Carpentry students. Last year, a similar bench was delivered to Beaverbrook School.
"We build a lot of items for the community," said Austin. "This year alone, we've donated six playhouses to daycares, and another one to a charity for a raffle. We try to do as many community projects as we can: the students always have something to do!
"When we get requests from the community, we try and tailor the project as close as we can to our curriculum so the students learn skills that they're going to use on the job," he added.
The Buddy Bench is a great addition to Evergreen Park School, said guidance counsellor Amanda Wilson. The project was spearheaded by the schools' North Starr Leadership Group, who organized an official presentation of the bench.
"This is a great tool to have on the playground," said Wilson. "It helps with building empathy. The kids are really excited about it."
The school district has been fortunate to partner with NBCC on this service learning opportunity, she added.
"NBCC was very good to collaborate with. Right place, right time, right people."