A couple of days ago, I sat at an old wooden desk at the New Brunswick Legislative Assembly, readying myself for my first appearance before the Standing Committee on Crown corporations — an important part of NBCC's accountability as a publicly-funded institution. There's a lot of history in the chamber where we met. In the early days of our province, it was home to the provincial Senate, and its walls have witnessed many debates and discussions on the hopes and dreams for this place called New Brunswick. While the Senate is gone, we still elect governments, expecting them to set good directions for our province. With the breadth and complexity of the challenges we face in 2019, we can't rely solely on a small group of people to tackle them. We are all partners in our progress as a province. We are all in this together.
New Brunswick Community College has a very specific responsibility, outlined in legislation, to "(enhance) the economic and social wellbeing of the Province." This is reflected in our vision of transforming lives and communities.  Our economic impact is well known. Over 90% of our graduates are working one year after graduation, most in jobs related to their training, most here in New Brunswick. Each year our graduates and our operations contribute $1.5 billion to the New Brunswick economy. Hand in hand with economic impact, NBCC is a catalyst for social change across New Brunswick. Over the past month, we've seen three ways this can happen.
Working towards reconciliation.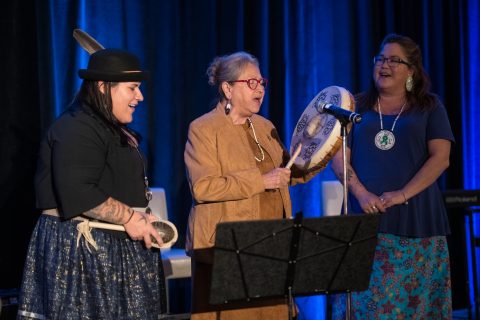 Just over two years ago, as part of our strategic plan Together We Rise, NBCC committed to increasing opportunities for staff and students to learn from and about Indigenous knowledge, culture, and history through authentic partnerships with Indigenous communities. Through learning and engagement, we committed to establishing deeper connections with Indigenous communities across New Brunswick, and contribute to the national movement toward reconciliation. We are fortunate to live in a country where we aspire to equal access and opportunity for all. Yet we know that, despite our best efforts, we still have a long way to go towards the removal of barriers and the inclusion of all people. The Truth and Reconciliation Commission as well as our own Indigenous Education Protocol challenge us to end the status quo and find new ways of reinforcing and creating space for collective contribution and impact. NBCC takes these calls to action seriously and celebrated a record number of self-identified Indigenous learners last year.  Our third Indigenous Gala, which took place on Oct 25, was an opportunity to celebrate and learn about Wabanki culture and history, while raising funds for Indigenous bursaries which create opportunities for these learners.
Serving and leading in our communities.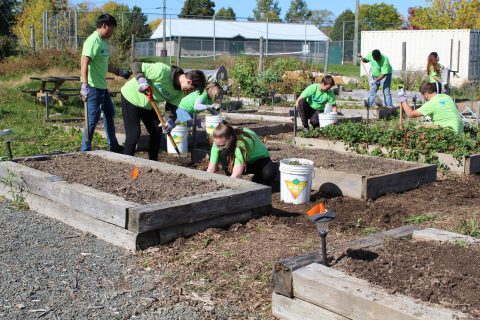 In early October, we held NBCC's 10th College-wide service day. Since 2014, we have invested nearly 55,000 hours in more than 1,000 projects through service days, in addition to countless hours contributed by students and staff on community service projects throughout the year. These projects strengthen our connections to community and bring valuable people power to important projects. Each of us chooses where to attribute our volunteer time and talent one afternoon, project or day at a time. Stop and pause on our achievement of 55,000 hours….this is equivalent to over 29 years of full-time labour with no vacation!! Do not underestimate the impact we have on our Province.
Becoming good global citizens, here at home.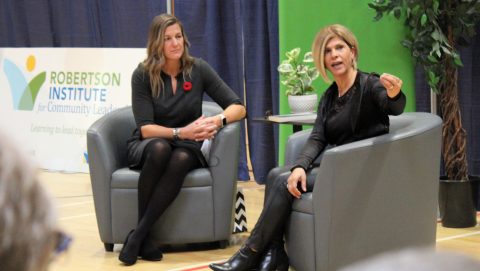 While service begins at home, we also believe that NBCC should connect and contribute to global conversations. On October 29, we were privileged to have Tima Kurdi come to share her story with our College community. On September 2, 2015, a photo of a two-year-old's lifeless body on a Turkish beach sped around the globe and woke up the world to the refugee crisis. The little boy, Alan Kurdi, became a symbol of the plight of migrants fleeing the civil war that had rocked Syria. For Tima, living with her husband and son in Vancouver, the boy on the beach was more than a symbol. He was her nephew, one of three family members who drowned seeking asylum. I recently read Tima's book, The Boy on the Beach, and was unbelievably moved by her journey from private pain to public activism. She challenged NBCC students, staff and friends to explore what it means to be a good global citizen, right here in our own backyard, and inspired each of us to use our voices to call for change. As we welcome more learners, particularly those from under-represented groups, from other parts of Canada and around the globe, as well as those who never considered post-secondary education before, we will be faced with an unprecedented opportunity to transform lives – both theirs and ours.
I strongly believe that education can be a force for tremendous good in our world; that it builds bridges, creates opportunities, challenges us to think in new ways, and pushes us outside our comfort zone. Education can instill us, and the learners we serve, with courage and confidence, with inspiration and with empathy – all important ingredients as we make our way in the world. I am proud of NBCC's commitment to nurture learners into leaders and to transform New Brunswick for the better.
Want to learn more about how NBCC is transforming lives and communities? Check out the latest issue of RISE.
---
| | |
| --- | --- |
| | Mary Butler became NBCC's second President and CEO on July 1, 2019. She was previously NBCC's Vice-President Academic and Research, initiating the transformation of NBCC's long-standing academic model. From 2011 to 2016, she was NBCC's first Vice-President of College and Community Development where she led the creation and growth of several award-winning elements of the NBCC Advantage. Deeply engaged in her community, she serves on numerous boards and committees at the local, regional and national level and is a long-time volunteer with the St. John Ambulance Therapy Dog Unit. |