(Originally posted March 2016)
Class of 2009 – Moncton Campus – Business Administration – Marketing
Trevor RoweTrevor Rowe's story proves that a combination of hard work and passion is the recipe for success.
Growing up in Sussex, NB, surrounded by a large family, Trevor's passion for food was cultivated by the mini-farm and large garden in his family's backyard. At the age of 18, Rowe stumbled across his first cooking job accidentally.
"I'd just moved to my brother's place in Brampton, Ont.," said Rowe. "I wanted to cook for him and his friends. Little did I know that a guy in the room owned a huge hotel on the waterfront in Mississauga. He loved the meal and asked if I'd work for him."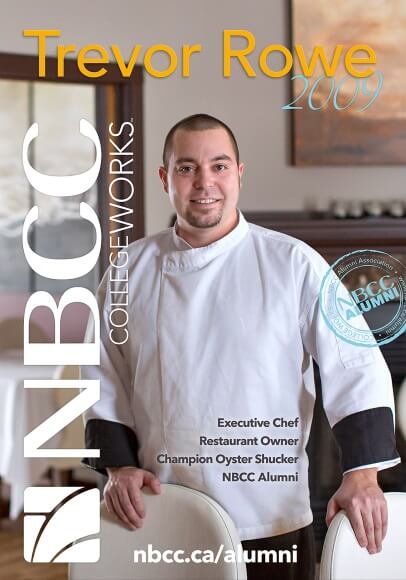 Over the next couple of years, Rowe travelled the world cooking. At the age of 22, he worked for Canadian Certified Chef, Steven Houston, at the Little Louis Oyster Bar in Moncton.
"Something in me clicked around this time," explained Rowe. "I knew that I loved cooking and I wanted to do it forever. Under Chef Houston's guidance, I started competing and won a silver and bronze at the Knorr Provincial culinary competition."
While at Little Louis Oyster Bar, Rowe also recognized his prowess as a champion oyster shucker. Undefeated in New Brunswick, Rowe has also placed in the top 10 in Canada and 11th at the World Oyster Shucking Championships.
"The trick with shucking is that you can't be afraid to cut yourself," said Rowe. "You must use both hands effectively and keep it clean. The penalties are what will get you. I remember my first world championship. They put 5,000 Irishmen under a tent and fed them full of beer and oysters. It was a one-of-a-kind experience."
After racking up some life and work experience, Rowe decided that he wanted to open his own food business. He was accepted into the Business Administration: Marketing program at NBCC Moncton, where he graduated in 2009.
"The friendships and connections I made at NBCC are ones that I'll never forget," said Rowe. "I loved that my teachers would put students in real life situations to prepare them for inevitable experiences while running a personal business. It was very hands on."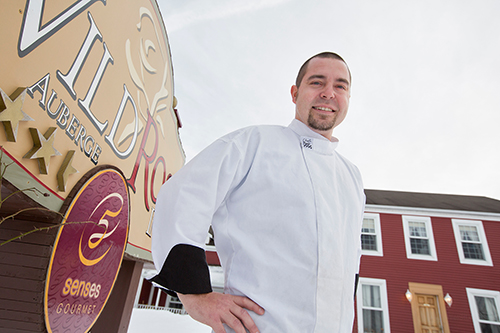 Using his natural gift and extensive training, Rowe and his business partner opened 5senses Gourmet Catering in 2010. This singular, Moncton-based, operation has since bloomed into five companies: catering, private chef service, restaurant, cooking school, and Blossom's Fresh Fruit Arrangement. 5senses' success caught the attention of the Greater Moncton Chamber of Commerce, who named Rowe the 2011 Youth Entrepreneur.
As President and Executive Chef, Rowe has even cooked for celebrities and dignitaries, including: Sir Richard Branson, Gene Simmons (of KISS), Kevin O'Leary (Dragon's Den), Arlene Dickinson (Dragon's Den), Avril Lavigne, and Erin Brockovitch.
"My advice for young chefs is that you have to work hard every day and believe in your potential in order to help achieve it. There is always room for improvement, and you can learn from everybody. It's a humbling occupation. If you already think you know what you're doing then you're not going to learn anything."
Meal that He Can't Live Without:
"Either a good homemade spaghetti sauce with fresh pasta or an oriental noodle bowl done up with sriracha and hoisin sauce."