(Originally posted March 2016)
Class of 2006 – Moncton Campus – Business Administration, Marketing
NBCC alumna raises her glass to NBCC
As a brand manager for Moosehead Breweries, Angie Pyne ('06 – Business Administration, Marketing) has what many Maritimers would consider a dream-job. Thanks to her experience at NBCC and her personal drive, Pyne focused on achieving her career goals and today, she enjoys a busy but rewarding career as a brand manager at Canada's oldest independent brewery. Over a pint of Moosehead's Alpine Lager, Pyne filled us in on her experience at NBCC.
Why did you choose NBCC?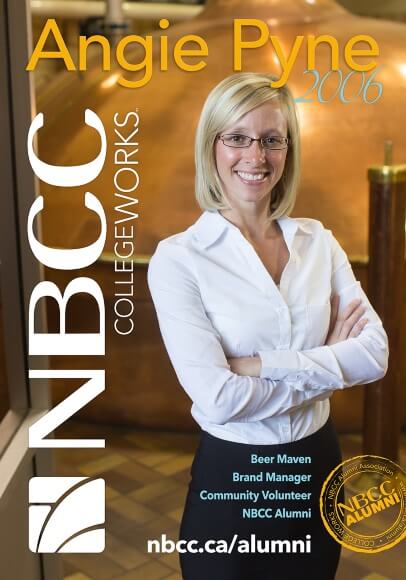 As a young girl, I knew I wanted to take business during my post secondary education and that I wanted to finish as quickly possible. My uncle, a successful business owner, attended NBCC and after many conversations with him, I knew NBCC was the best option for me. His success story and real-life experience showed me that I could get where I wanted if I pushed myself. The skills I would learn in the two-year program would help me gain the work experience and knowledge to advance my career down the road.
Tell us about your time at NBCC
To attend NBCC Moncton, I had to move away from home for the first time – a very life-altering move at 18 – to a city and a school where I knew few people. As it turned out, there were a lot of people in the same boat as me. I played on the basketball team, in softball tournaments, and attended every organized event possible. Eight years later, I am still in touch with the friends I made.
In the classroom, the instructors were always there for their students and I have so much respect for the effort and support they provided to me and the other students. By chance I was very lucky to have an awesome instructor, Ron Miller, in my first-year accounting class. He became a big support person for me and my cheerleader every step of the way, pushing me through the things I found difficult. If he wasn't able to help me with a specific course, he was sure to find someone who could. He wanted his students to succeed. When he handed me my diploma at graduation on the stage in front of all the other students and parents, I hugged him as a thank-you for never giving up on me. He isn't at the Moncton campus anymore but in the early days in my career when I was passing through Moncton, I would stop to see him.
What path did you take after you graduated from NBCC?
I was very lucky to do my six-week work term in the marketing department at Kent Building Supplies head office, where I was hired on full time immediately. I started as an associate and after 2.5 years of hard work, long days, working weekends and many ups-and-downs, I was promoted to a Program Leader reporting to the Marketing Manager. I worked on everything: flyer creation, in-store promotions, sponsorships, installed sales, events/contests and I learned to manage people.
After five years at Kent, I decided to take my career to another industry, a very different industry, the beer industry.
What should all new NBCC grads know?
I had two really great mentors at Kent, both of whom I'm very thankful for. If I could give advice to a new graduate, it would be find a mentor in every job. A mentor will help you grow and develop your skills; find someone who will not be afraid to manage you and their expectations of you in every position. I had a boss that wasn't afraid to knock me down but he also helped build me back up.
Many people would love to work for a brewery and picture beer-sampling as part of the job description. What's your job really like?
I've been at Moosehead Breweries for three years now. I started as an Assistant Brand Manager and let me tell you – beer and building supplies are very different! Initially, I often wondered what I had done because I left everything I knew and was good at. But an opportunity presented itself to prove my dedication, persistence and drive and I jumped on it and it paid off. After a year and a half, I was promoted to Brand Manager reporting to the Senior Director of Marketing. I love the beer industry. I'll never be done learning something new and have learned that opportunity exists around every corner to gain new experience. I work with some really great people who help me through every new learning curve.
Are you active in any projects outside of your position with Moosehead?
When I moved to Saint John from Moncton in 2006, I became involved with the IWK Health Centre by volunteering during IWK Telethon weekend for two years and serving on the planning committee for four years. This year, I was asked to serve on a marketing committee for another organization to provide marketing insight for further success.
What's the best kept secret about NBCC?
Student testimonials; I think people need to understand that you can go to college to have a career that you are passionate about.
The small class size keeps you up close and personal with your instructors.
College is fun! You'll make lifelong friends and memories. Most importantly, you'll get an education you're proud of.
What would you tell a prospective student or a new NBCC student?
Think about the career path you want to take and the industries you're interested in. Have a conversation with past students from different fields of study. Find out where their path of education has led them.
It won't always be easy, but if you put your mind to it you can do it. Ask for help if you need it, you'll never be turned away.
Get involved. Play sports. Join the student union. Meet as many people as you can. Eat lunch in the cafeteria. Mingle with people outside your department.
What's your favorite part about your life right now?
I have a great career at Moosehead Breweries. Of the nine brands in my portfolio, Alpine Lager is my biggest brand in the Maritimes and my most favorite. I love it as much as dedicated consumers love it. I can connect with them on a personal level through many of the activities that I enjoy in my own life. I am proud of what I have achieved since I graduated from NBCC.